Well, after some considerable thinking about forces, deflection, stiffness, etc., I determined that all the guitar needed was a cross brace added just under the soundhole and it should then be able to work with the SS tension okay. I made a fairly sturdy brace (about 5/16" thick, 3/4" tall), lasered out some of the material in a pattern that matches the back braces, then carefully trimmed the ends and sanded the dome curve on to the gluing surface to get a nice tight fit all round, then glued it in. It wasn't too hard to clamp since it was right by the soundhole. Unfortunately, I didn't think to snap a picture of the glue-up, but got a couple of the brace in place. In this first picture, you can just see the brace with its laser-cut holes through the soundhole:
I shoved my iPhone inside the guitar and snapped away to see if I would be able to capture any good shots of the brace....I got lucky and found this shot among the many duff ones! The light from the workshop shined through the honeycombed soundboard to show off that feature nicely also:
I left the brace clamped up over night, then gave it another 24 hours to rest/cure before re-stringing the guitar with a new set of Addario PB Lights. There was palpable tension in the air (pun intended) as I wound the strings up to tension/frequency! Would it hold, or would the soundboard dish still?
The fix was solid! The soundboard didn't move one tiny bit

yay!
. Success at last!! Well, that was a couple days ago.....I didn't want to jinx the fix by announcing success too early....so I left it until tonight to see if there was any sign of movement. None, I'm happy to report! So, here are some more photos of it, complete, strung up to tension, and ready to play: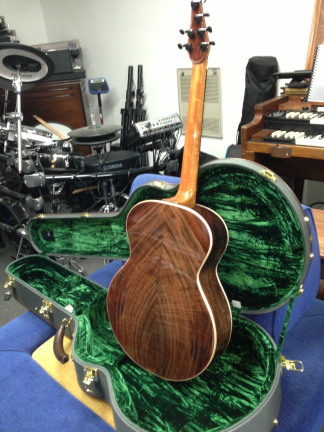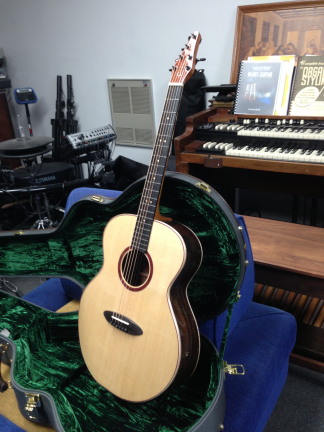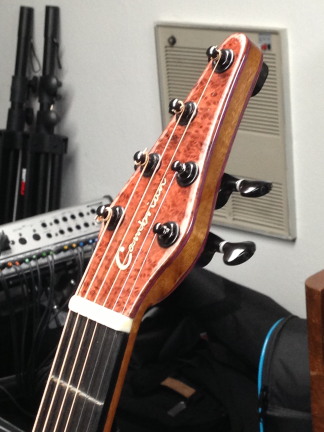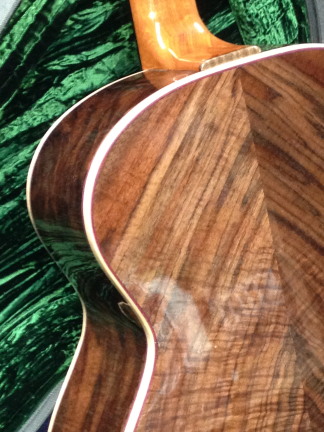 I'll take some studio quality photos with a proper camera and lighting set up sometime later this week. I have a fantastic guitar player lined up to video/sound record also! Stay tuned!!
Cheers for now,
Dave F.
_________________
Cambrian Guitars
"There goes Mister Tic-Tac out the back with some bric-brac from the knick-knack rack"