So, here's what happened today (Saturday August 18th):
Unclamped the side braces that I'd left to dry overnight. They came out nicely. Here's a closeup of a typical one: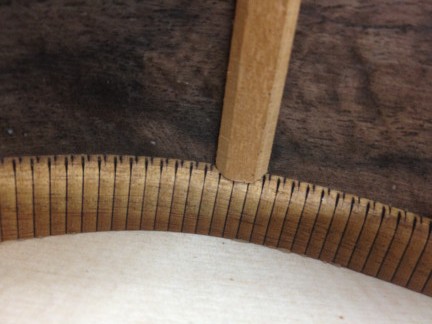 Then I made some waist blocks from some scrap phenolic birch plywood, shaped them to fit the waist, worked out the angles needed for drilling, then drilled holes in them and the neck block for the two carbon fiber buttress tubes that I needed to stiffen up the whole upper bout and that direct a lot of the string tension into the waist of the guitar, where it is very strong and stiff. I cut the 3/8" CF tube to length then using epoxy glue for the CF and wood glue for the waist blocks, fitted them both and clamped the assembly up. Then went for a nice long dinner to let it set.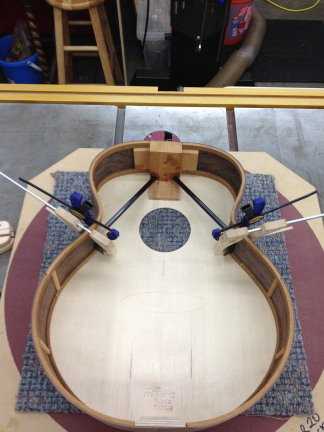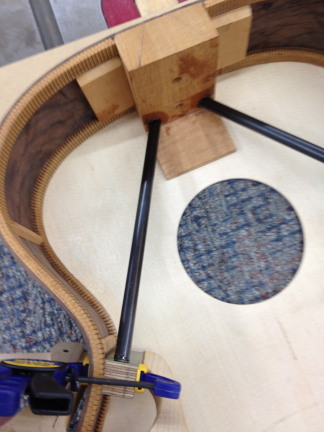 Here's what they looked like after the glues were dry:
Then, after deciding that I would probably stick with bridge pins for now, I made a nice hard bridge patch (in my trademark oval shape that matches the bridge shape I use) from a piece of Katalox. This wood was given to me by Peter Hurney in payment for doing some laser work for him (on a Monarch butterfly inlay), so again, cost = $0!!
I glued the bridge patch in using the go-bar deck: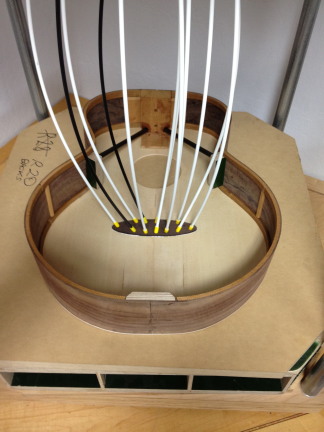 Then I contemplated the stiffness of the soundboard. I think I may have gone too thin on the top and bottom skins. It was not as firm and stiff as I'd like, and certainly nowhere near as stiff as the ESJ1 (first version of my experiment). So, I decided I needed to add just one stiffening brace that would stiffen up the bridge area and prevent the guitar from bellying (eventually). I used the laser to cut it out. Here it is being glued in:
And here it is after gluing: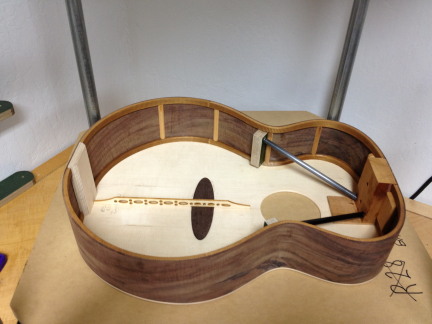 This was a leftover piece of the brace material from the back of the guitar, so once again, no cost adder

Tomorrow it will be time to prepare the back/back braces/side mortices to accept them and then glue the back on! By tomorrow night, the box will be closed and ready for binding/purf....
Cheers,
Dave F.
_________________
Cambrian Guitars
"There goes Mister Tic-Tac out the back with some bric-brac from the knick-knack rack"