http://www.youtube.com/watch?v=k_C-gIEsE74
http://www.youtube.com/watch?v=2XeiLvpqTbM
Pictures: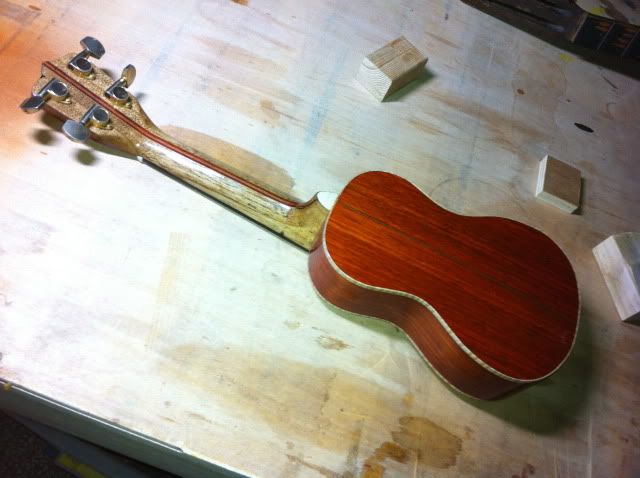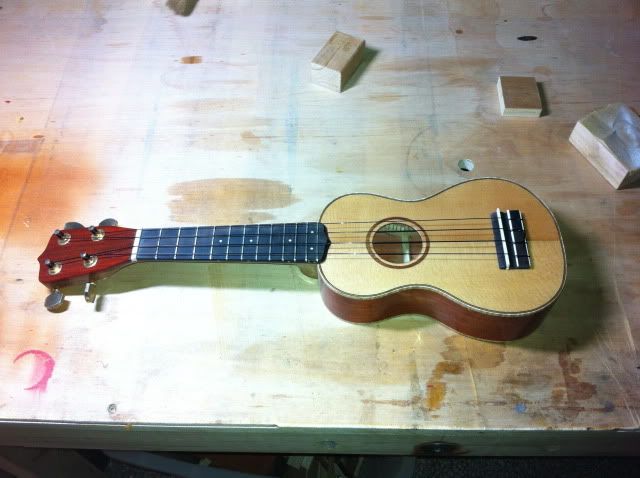 Materials:
Style: Soprano ukelele based on a Martin model (forgot which)
Top: Low grade Sitka spruce, purchased in Taiwan from a supplier who supplies low end wood to low end producers (costs about 6 dollars, for guitar sized top, but was rejected due to excessive runout)
Back/side: Asian Padauk (the whole billet costs about 30 dollars, and I had to resaw it myself)
Fingerboard and bridge: Macassar Ebony (got it free, the fingerboard was rejected because I goofed on the fret position when using it for guitars, the fingerboard costs 10 dollars)
Neck wood: Scrap lauan found on the side of the street, laminated with scrap padauk and wood veneers
Fingerboard dots: Plastic (about 3 dollars)
Binding: Curly maple (came from a low grade maple side)
Total cost: about 45 dollars or so, the tuner was free because it was taken off of a junk guitar.
_________________
Cat-gut strings are made from kitten guts, stretched out to near breaking point and then hardened with grue saliva. As a result these give a feeling of Pain and anguish whenever played, and often end up playing themselves backwards as part of satanic rituals.
Typhoon Guitars
http://www.typhoon-guitars.com