Stupid Microsoft, and you wonder why we hate them? Upgraded to Win 10, all kinds of problems because of it besides not liking how they have things arranged. Could not get the card reader for my camera to work. Said that the device is not working or it does not recognize it. Same with another reader or directly from the camera, a Canon and not some fly by night type. Had to get another old computer up and running in order to get the pictures off the card and then transfer it to my normal computer using a usb stick. Besides that my computer now has a hard time doing two things at once, playing music and surfing online. Not real hard tasks. Thank you Microsoft.
Finally found the second piece of mahogany that I wanted to use for the heel of the neck. Pulled a piece of wood out of a box to be burnt in my dad's stove. Stove long gone and I am just cleaning up. It was a piece of mahogany that already made a trip into the fire but only had one end burnt. Cut it into a couple of blocks to be used for the neck joint. Glued one to the neck but looked all over and could not find the other one. Finally found it.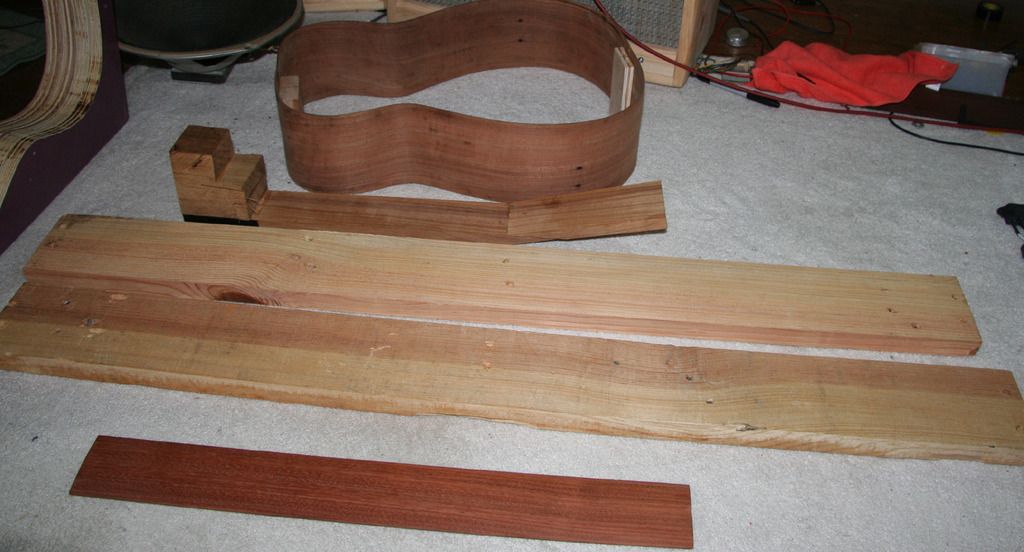 Cleaned up one piece of the mystery pallet wood, could get a good neck out of each. Do I use it, still up in the air. Speaking of not finding stuff, could not find my circle jig for my router. I tore apart my workshop area to do some remodeling and I am still looking for stuff otherwise I would be further along. Going to be a while before I get back to normal. Next up is doing the rosette.