Construction Notes on this thing:
The ShopVac cost 69.97 at Lowe's
Shop-Vac®
14-Gallon 5.5-Peak HP Wet/Dry Vac
Item #: 236625 Model: 9302411
Mini Cyclone is from Ed at clearvuecyclones.com
$120.00 plus $15 ship...
20 Gallon Metal Trash Can with Lid, ACE hardware
$16.99 on sale for $13.99, cheap.
I used Bath tub caulk and adhesive to seal the layers.
The plywood is 1/2 inch which makes the deck, and the inner disc used to beef up the trash can lid.
Here is a pic of the shopvac and tools, use the wheels on the plywood deck.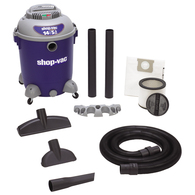 http://images.lowes.com/product/026282/026282930248.jpg
I have some pics of building it if anyone is interested.
Oh yeah, you need to sand down a male threaded PVC a bit and it plugs the hose hole by just screw-wedging it into place. I cut the holes with a fly-cutter.