[QUOTE=Larry Davis] The OLF is a very small pond in reality. [/QUOTE]
Possible?
Although, the "hit to the DB" is not just by the "registered members" When you post you are adding to the DB, BUT when you simply "read" you are asking the
server to hand out and build the page you are viewing by pulling it from the master DB which is becoming a monster in size.
We have far more readers than members.
Our analytics tell us we had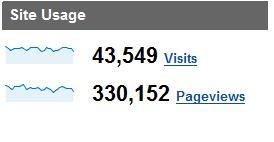 for the month of November. Of which 7,012 were Absolute Unique Visitors,
Small pond? possibly, but its big enough for me