Old Growth Brazilian Rosewood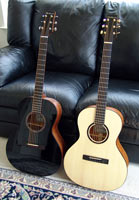 Joined: Fri Nov 02, 2007 9:49 am
Posts: 10468
Location: Ann Arbor, Michigan
First name: Hesh
Last Name: Breakstone
City: Tecumseh and Ann Arbor
State: Michigan
Country: United States
Status: Professional
We refret guitars every week and the largest demographic of our clients are 55 to dead.... males. Many of these guys, who are my age at 62 here don't like jumbo fret wire. They find themselves over compensating and pressing too hard and pulling notes sharp.

As such we are always sure to let folks have choices on an individual basis and the geezer group often will use wire not of the jumbo variety.

With this said who these guitars are intended for should be a huge factor in your selection process and there are no hard fast rules.

One last comment of the famous players who we service their instruments the more pro a player is I've noticed that jumbo wire does not bother them and instead may be specifically requested regardless of age.

And really lastly Jescar wire is way preferable to all others with us and we likely do close to 100 refrets annually. Jescar does now sell in smaller quantities as well and they have other cool products such as the polishes and rubbing compounds.
_________________
Ann Arbor Guitars
World-Class Repair and Restoration
http://www.annarborguitars.com