DennisK wrote:
So how's this baby coming along? Waiting for finish to cure, or do you still have it strung up in the white? And what are your thoughts on eastern red cedar as a top wood? There's a guy over on delcamp asking about it, says there's a guy somewhere in Missouri with a bunch and could cut guitar tops if there's interest.
Excellent work, by the way. I think this is my favorite build in the challenge so far. Love the color scheme, shape, F holes, everything. I've been wanting to try an arched top with flat back like that, and wondered why nobody ever did it. Arched back makes sense for soundpost instruments, but flat seems like it would work better for guitar style instruments... plus it saves a bunch of wood and painful hardwood carving. Carving the top is fun though

Definite points for forging your own steel tailpiece

Looks great. Not a fan of the hex bolt though. Stick a wood pin in that thing!
Can't wait to hear sound clips.
It's coming along pretty well. I hadn't really done anything on it for a couple months, then realized the deadline is quickly approaching, and I'd better get moving.

So, a few weeks ago I shaped the neck, and this week finished sanding and started spraying.
I did have it strung up in the white, and it sounded pretty good. I think the eastern red cedar is fine as a top wood, but you won't see it used much, since it's so hard to find pieces big enough without knots.
Don't worry, I'll be making an osage endpin.

Clinchriver wrote:
Really cool build. Nice job carving the plates.

I replaced some plastic handles on some chisels with curly maple and used copper pipe for ferrels, your hand made ones look really nice.

I've been into forged knives for a long time, I have a couple of Jerry Fisk knives, should have three one got stolen.
Sorry to hear about your Fisk getting stolen. What models do you have?
Ok, here's the first round of the semi-final pics:
The neck before shaping:
I use a belt grinder called the KMG (knife makers grinder) from Beaumont Metal Works. A wonderful tool. I'd be lost without it.
Here it's set up with the small wheel attachment:
After shaping the way I want, I use a different attachment, with a slack 240 grit belt to remove the 40 grit scratches: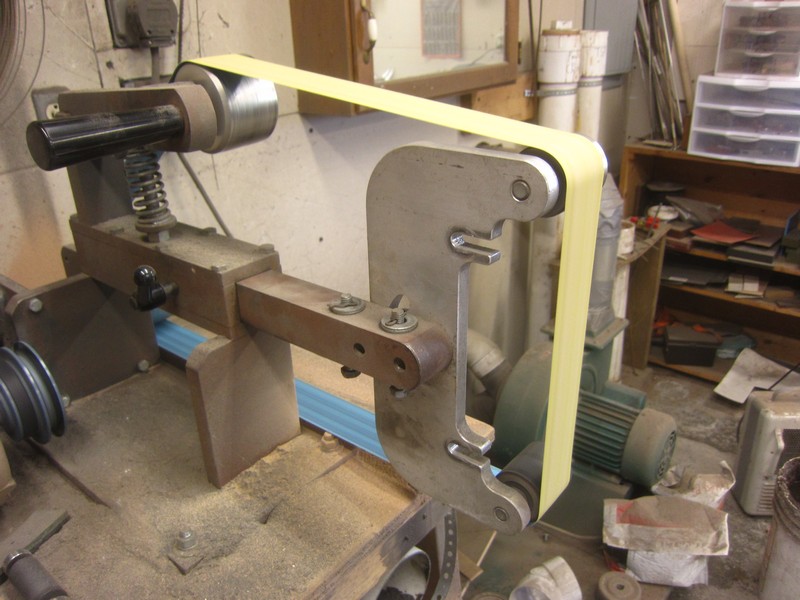 All smoothed out:
I'm finishing this neck with Tru-oil. Here it is with one coat on:
_________________
Regards,
Phillip Patton
http://www.pattonblades.com
The bitterness of poor quality lingers long after the sweetness of low price has faded.
https://hoosierbladesmith.wordpress.com