Running Tally of Costs:*************************
1. Back and sides - local Claro Walnut - I got several big slabs of the stuff, plus several more of wonderful figured Honduran Mahogany (!) in exchange for an old lathe. I figured the lathe value divided by the number of back and side sets I'm going to get from the stash and came up with $25 for the walnut back and sides set.
2. Soundboard - uses two sets of Shane's 2A lutz spruce dealeo - box of 10 sets for $10 a set, so just $20 for the soundboard!
3. Rosette redwood burl offcut - FREE from a kind wood vendor at the recent American Association of Woodturners symposium
4. Blue-Red-Blue homemade purfling - $2.75 for the whole guitar, including around the rosette
5. Two sets of "Gotoh Style" black tuners 3R3L from Hong Kong - $9.99 a set - great deal
6. Honduran mahogany neck blank (like LMI WNHMHL2, 30" x 3" x 1", 2nd grade) - $15.75
7. Two sets of D'Addario PB Lights - OLF dealeo - $2.50 a set = $5.00
8. Neck block - couple bits of mahogany from the scrap bin - $0
9. Tail block - piece of birch ply from the scrap bin - $0
10. A4 kerfed lining (8 pieces) made under license from Kevin Ryan, so just the cost of the wood, which was a 7/8"" x 1.25" x 30" offcut of Spanish cedar from my scrap pile = $0
11. Back brace wood, part of a lump that cost $5. Let's say $2 for the four back braces.
12. Bloodwood scrap for the guitar label from a pile of stuff I bought at the annual LMI sale for $5 a pound. Cost $0.04 (rounded up!)
13. Carbon fiber rod - two 10.5" long pieces of 3/8"OD pultruded tube from Dragon Plate (cut from a 48" long piece) = 21"/48" x $8.50 = $3.72 - not as much as I thought!
14. Grizzly 3086 truss rod - $12.95
15. Two 1/4-20 hanger bolts from Woodcraft, with nuts and washers from Home Depot - $0.85
16. 3" of 1/2" hardwood dowel - $0.30
17. Rear headplate redwood burl slice - $2
18. Fretboard - Streaky ebony from a LMI $5/lb. sale - $5
19. Two rectangular pieces of my homemade blue-red-blue purfling veneer glue up for the headstock - $3.56
20. Medium fretwire from Stewmac - 4 pieces - $4
21. Fretboard side dot material - thin white plastic rod - dirt cheap - let's say 30 cents, fair?
22. Fretboard dot inlay material - little 0.2" circles of scrap beech = $0
23. Bridge blank - streaky ebony from my stash of wood bought at an LMI $5/lb sale a few years ago - about 1/4lb = $1.25
24. Extra cross brace spruce - $0.50
25. Bone nut - from LMI - $3.60
26. Bone Saddle - from LMI - $3.55
FINAL COST = $136.60
So, I have $13.40 left over for afternoon tea and cakes....woohoo!!

**************************************************************************************************
This challenge I'll try to get my entry done in time, promise! (I'm nearly done with my first challenge build!!)
I'm making another OLF-SJ style guitar, but with a different soundboard structure than last time. You'll see.
Materials will come in waaaay lower than $150. I'll keep a running tab of the costs. E.g. just ordered some of those $10 eBay "Gotoh Style" tuners from China.....
So far I have thickness sanded the sides and bent them (local claro walnut, cost estimate $10), and joined a set of 2A spruce tops from Shane ($10 a set!), then thickness sanded to 0.090" and laser cut about 2,100 1/4" hexagons (and partial hexagons) out of it to form the center piece of the "triple top" that I'm experimenting with. Laser cutting took 31m7s.
Here's a short video showing highlights of the laser cutting:
And here's what it looks like now with all the little hexagons removed: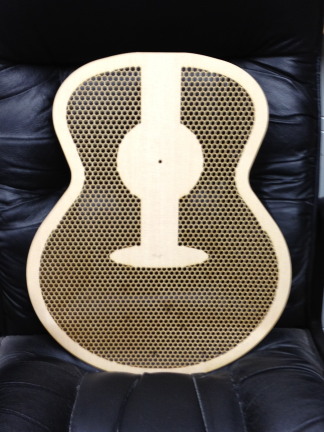 More to come very shortly....
Cheers for now,
Dave F.