dpetrzelka wrote:
When I need to rehydrate a really dry guitar prior to repair I usually keep it closer to 70% for a week or two (unstrung, multiple humidity sources inside a closed case), then let it sit 1 week at 45% in my shop.

I agree that your Takamine still looks pretty dry, and could benefit from another week at higher humidity to be sure its settled in before you take final measurements and plan your attack.
Yesterday night I put it in the case with two of these, and a damp sponge in the soundhole inside of two ziploc bags.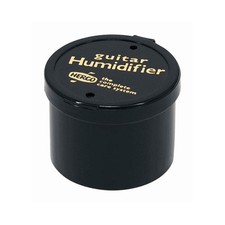 Mark Mc wrote:
Overall you plan is good, and seems well thought through. But the comments provided so far give you good warning of potential pitfalls. Don't let that put you off. You will be very happy and learn lots if you succeed, and not badly scarred if something goes wrong
Thank you! I don't feel too intimidated by it, but I certainly feel better knowing what all the potential issues are.
I have two comments. Firstly, you will not properly rehumidify the thing just by bringing it into a RH of 45 for a while. It definitely needs "active" rehydration. Either humidifiers inside it in a case, or wrap the body of the guitar in a large plastic garbage bag (trash bag to you?, not sure as I only speak English) - with some wet rags in the bag with it (not touching the finish). Hang it like that for a week.
See above... but yes, I'm from bluegrass country and only speak English as well.

Second, I have found that a good way to clamp the fingerboard during the re-glue is to use a bicycle inner tube as a big elastic bandage and just wrap it from one end to the other, pulling some good tension in with each turn. Your locating pins will keep it in place and the big rubber band provides even pressure everywhere. It is better than lots of individual clamps, and much faster. Titebond doesn't stick to the rubber. You just unwrap it when the glue is dry and scrape off any squeeze out.
I'll be on the lookout for some inner tubes then. Great advice!
Freeman wrote:
Just a couple more comments or questions. A photo of the relief won't tell us anything - string it back up and take a real measurement. The top should have a significant dome - maybe 1/8 of an inch. Lay a straightedge across and measure. My point is that since the geometry is all wonky on a dry guitar I don't work on them until they are stable.
Yeah, it's nowhere near that right now. Since I don't already have one, I'm going to purchase a luthier's straightedge soon. Is it best that I get one with fret notches, or just solid?
The usual reasons truss rods "fail" is that some ham handed "tech" twists them too hard. Double acting rods have a neutral zone where they are flat and turn very easily, they get increasing tighter in both directions as they start flexing. I honestly don't know how someone could get enough torque with an allen key in a sound hole adjuster to break a rod, but people do amazing things.. AS you know, double acting rods are kind of like a turn buckle, both ends threaded and there is a bar connecting them. As you tighten/loosen the ends move together or apart, flexing the bar which pushes up or down on the neck in different places. They are very powerful and have a lot of mechanical advantage.
No idea how it happened... I guess the only thing that matters now is how to fix it though.
Common glues for fretboards include hide, AR and epoxy. Usually the extension is pretty lightly glued - work on that first. Trying to work pallet knifes under the board does run the risk of breaking it at a fret slot. You might find it better to just sacrifice the board and replace it.
I have it on pretty good authority that Takamine has used Titebond in recent years, so hopefully it will go rather smoothly.
You'll do more than just dress the frets - you will refret the board with the problem of getting them between and over the binding. Again, done every day, I charge a little extra for the work.
About 30% of the people I've talked to seem to think this repair will warrant a full refret. Is that really necessary? At what point would I need to remove the frets, other than for alignment pins?
The binding probably has clear coats over it. Score thru them or you'll chip the finish. I'm going to guess that the wood is NOT stained, even if it is any sanding or scraping will disturb the stain and that is a real hassle to fix. Looking at the 'burst on the top I'm going to guess its sprayed in the finish. Test the finish to make sure you can deal with whatever it is.
I also have it on pretty good authority that it's clear poly over stained wood, but I'm not 100% certain. I do know that I can see some clear poly on the end of the fretboard sticking out over the soundhole. It flakes right off fairly easily. But yes, scoring the finish well is going to be vital.
Check the neck angle with a straight edge on the frets just like always. That will partially answer the question about hydration and if the angle happens to be bad and the neck needs to come off anyway it will make your fretboard removal that much easier.
Have a straight edge coming soon... but I really don't think the neck angle is bad. Looked to me like, once the top comes back up and the neck is straightened out, that it will be perfect. But I'll check it and report back.
Not an impossible job but certainly not trivial either.
Freeman wrote:
Thinking about your guitar this afternoon while I was out in the shop (and looking at the Martin neck that I broke the fretboard trying to remove it) I'll tell you how I would approach this
First, as I always do, when the guitar comes into my shop I would measure everything and write it all down. We suspect the guitar is dry, but Chowlie hasn't completely confirmed it (flat or sunken top, low neck angle, wavy finish. sharp fret ends...). I would measure relief, action, bridge and saddle heights - the usual stuff.
Top was sunken initially but is right about flat now. Fret ends weren't sharp, but the binding was a bit separated. Neck angle looked good, although it had far too much relief. But now even the relief is looking better without strings on it. Also - not sure if it was due to poor hydration, neck relief, or a combo of the two - but there were wooden shims under each saddle piece to keep the strings from buzzing. Normally I can take at least .050" off the height of the stock Takamine saddle pieces to get the action around .080". The saddles were sticking up REALLY high, and the strings were still buzzing a bit in the high frets.
Second - if the guitar is dry, put it away for a month to rehydrate. What do you have to lose? If its not dry and the neck angle is OK, move forward
Third - measure the relief without string and with strings. Most of the time it will change a few thousands, if it changes a whole lot more there is serious structural issues with the neck (maybe a completely broken rod?). If it only changes a little, what is the relief? I like as low as possible when I do a setup - with really good frets I can usually get to 4 or 5 thousands. Ten is kind of a break point - above that I start thinking about reducing the relief. Twenty is definitely bad. However to put this in perspective I have two wonderful old Martins with non adjustable t/r's - one had 10 and one had 12 thou - they both play fine.
I really think the truss rod is broken. I have a set of used .012s I can try putting on it, but from the way it looked with only .010s I know it's gonna be bad. I probably won't even get them up to full tension before I back it off.

Forth, if the relief is higher than I like but seems stable (doesn't change significantly with string tension) then whether the truss rod works or not really doesn't matter (like my Martins). I would be very tempted to pull the frets, plane the f/b more or less flat, refret it and live with it. If the relief is really bad I might consider compression refretting (I've read about it but never done it).
That's an interesting proposition, but I think the problem with this guitar is far too severe to get away with only planing the board. Nonetheless, I'll try putting more strings on it once it's better hydrated and report back.

Next, if the neck seems unstable with adding string tension and/or I felt I couldn't sand the board flat enough I might start considering taking the board off and looking at the truss rod. If so I would basically follow your steps - I'd pull the frets, make the index holes, leave the binding on and use my little heat blanket that I use on f/b extensions and just heat and move down the neck doing a little at a time. Once the f/b is off figure out what (if anything) is wrong with the truss rod, replace it, clean up the board and neck and reglue with Titebond. Clean up whatever mess I made of the binding and finish the best I could (I am not capable of fixing colored catalyzed poly so I probably would dab some red CA into the cracks). Refret (I've done enough bound boards that I'm comfortable, I would certainly glue the frets in). Since the neck angle is OK and the truss rod now works it should be an easy matter to make new saddles and nut and set it up.
Sounds look a good plan. I might even look into buying a heat blanket for it. One question though - why would I need to make new saddles and a nut? I don't think the nut will give me too much trouble upon removal, and the saddles just drop right in. They'll have to be shaved quite a bit anyway once the top is rehydrated. I don't suppose all nuts and saddles are like Takamine saddles though.

Last, open a cold adult beverage and post the pictures here.
I might even have to crack open an adult beverage while in-process. Maybe I won't be that stressed out.

Thank you all so much for your replies - you have no idea how helpful you've been already.