Andy, I got your PM but wanted to respond here so everyone could read it and perhaps comment further.
As Sylvan said, you need to design this into your guitars. It's an often overlooked detail and I think that reasoning might be because often times people just get lucky and it all works.
this is what some of us are doing. I know Lance uses a similar jig to flatten his tops at the right angle.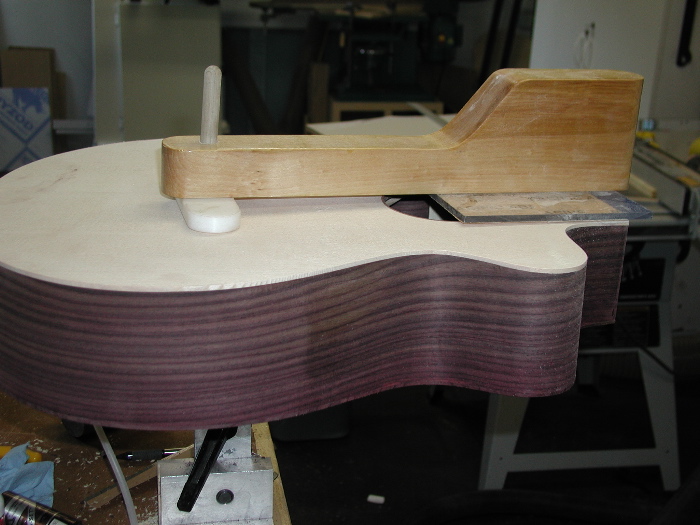 Basically the white piece of UHMW is the thickness of the bridge (plus the thickness of the plexi on the end) giving the perfect slope of the top. I just draw witness lines from the top of the soundhole to the neck joint and start sanding until they are done.
That said, I don't really like this system. I'm not too crazy about thinning the top in this area. So my next design will be for a router to ride on a set of rails that will be at the perfect angle, which you'll have to figure out what the perfect angle is in your particular situation. Anyway, the router will take the dome off of the linings above the soundhole and the neckblock and give them a straight angle instead.
There are several fixes to a hump or dip problem. The one that I've found to be the least obvious is to remove the frets, force the extension to make the hump or dip, glue it onto the top, and sand that fingerboard flat again. Once the fingerboard is flat and true, refret. You won't be taking off much material so it won't be noticable.